Asian Trails Myanmar
August 20, 2013 in Travel agencies, Mergui Guide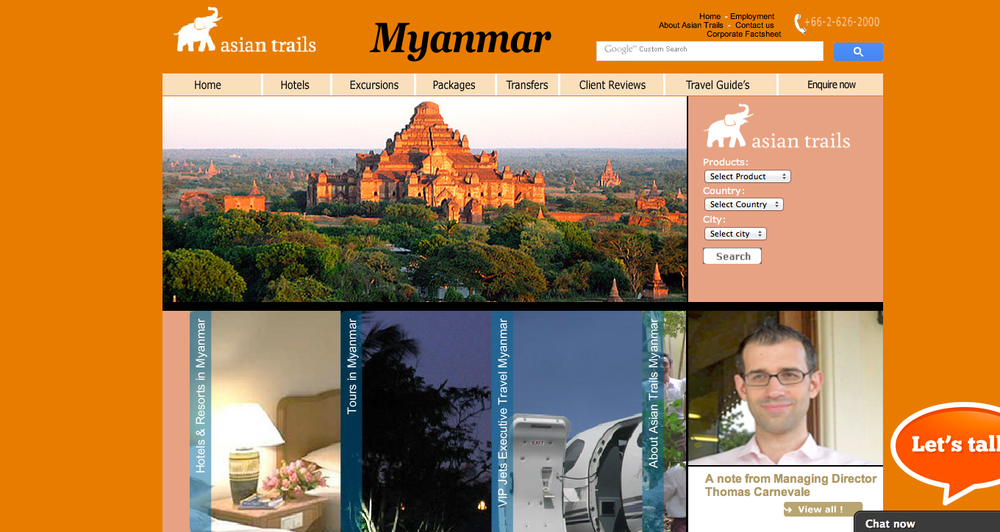 Asian Trails is one of the leading leisure travel companies in Asia with a network of offices across 8 countries from Bangkok to Beijing. The company takes guests to the Real Asia so they taste, touch and experience the beating heart of every destination they visit.
Its portfolio of products includes tailor-made leisure arrangements, airport transfers, hotel, tours and transfer bookings and a range of tour packages that includes cultural, historical, social and adventure-based programs. Never resting on our laurels, Its reputation to deliver exceed-all-expectations' delivery of high-quality service standards for even the most discerned traveller continues to receive praise.
Asian Trails continue to innovate and provide an ever-changing range of leisure travel products to take you on the ultimate adventure across Asia.
Asian Trails Ltd
635(J), Yoe Ma Yeik Thar, Pyay Road,
Kamaryut Township, Yangon, Myanmar
Tel: +95 1 535 574
E-mail: res@asiantrails.com.mm
www.asiantrails.travel