Mergui Archipelago, Myanmar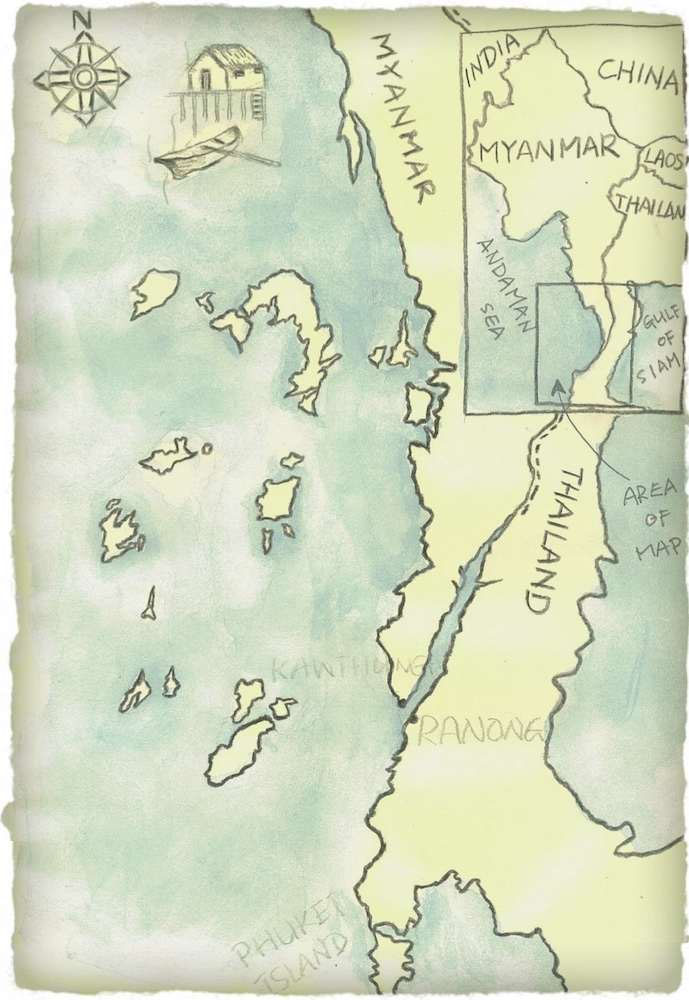 View in Google Maps
Our Main Cruising Area: Mergui Archipelago, Myanmar
Located in Myanmar's remote south, the Mergui Archipelago remains as the last few unspoilt pieces of paradise in the world.
Virtually unknown to the outside world, the Mergui Archipelago is located in Myanmar's (Burma's) remote south: a group of 800 deserted islands that lie at the heart of our sailing area.
Think white beaches lined with palm trees and dense jungle. Think swimming in azure water amongst colourful reef fish, spotting corals, and collecting seashells. Now, picture eagles circling above, gibbons and monitor lizards eyeing you from the thickets, while a sundowner is being mixed for you on board the yacht.
Best of all: you have this entire experience to yourself. You sail for days on end and meet not a soul but the odd fisherman in a dugout canoe.
Just across from the Thai border, the archipelago opened to foreigners as recently as the late 1990s. With only a few of the 800 islands sparsely populated and a couple of dozen visitors to the entire area each month, the Mergui Archipelago remains one of the planet's most unspoilt destinations.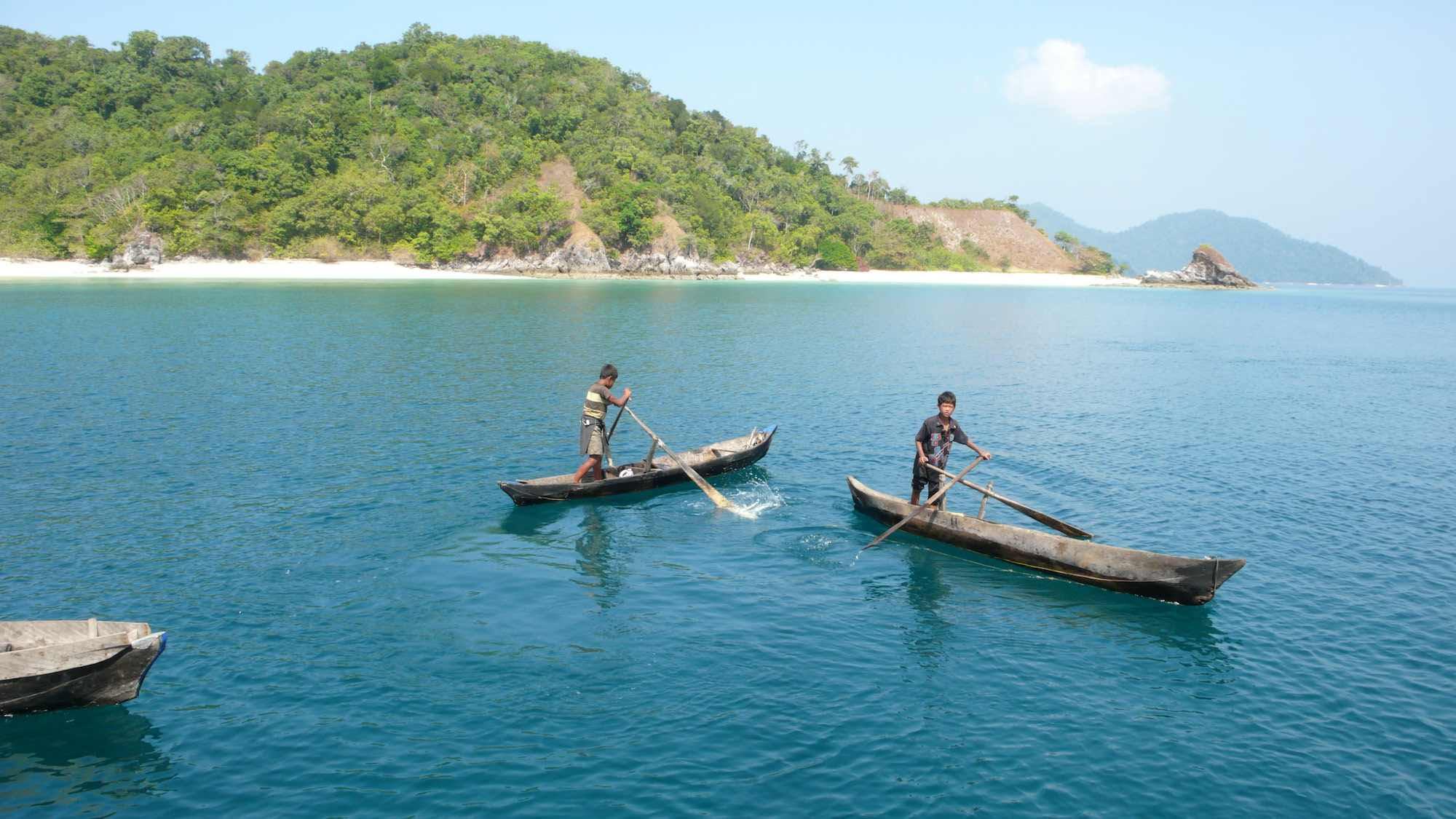 Meet the Sea Nomads
The traditional inhabitants of the Mergui Archipelago are the Moken, a people who live off, and on, the sea. Sometimes called "sea-gypsies", this ethnic minority group leads a traditional, semi-nomadic lifestyle, dominated by diving for sea cucumbers, fishing and bartering.
Until the recent changes in Myanmar's government, the relationship between the Moken and the central authorities were marked by tensions. Recently, however, things have started to improve, and the Moken are somewhat less elusive. If you are interested, we can take you to Moken villages where you will be able to enjoy Moken food, buy fresh cuttlefish, and watch men building dugout canoes the way they have been made for tens of thousands of years.
Myanmar is home to more than 100 ethnicities from the Sino-Tibetan, Tai, and Austroasiatic ethnolinguistic groups – you will see an array of starkly differing features amongst the people you meet.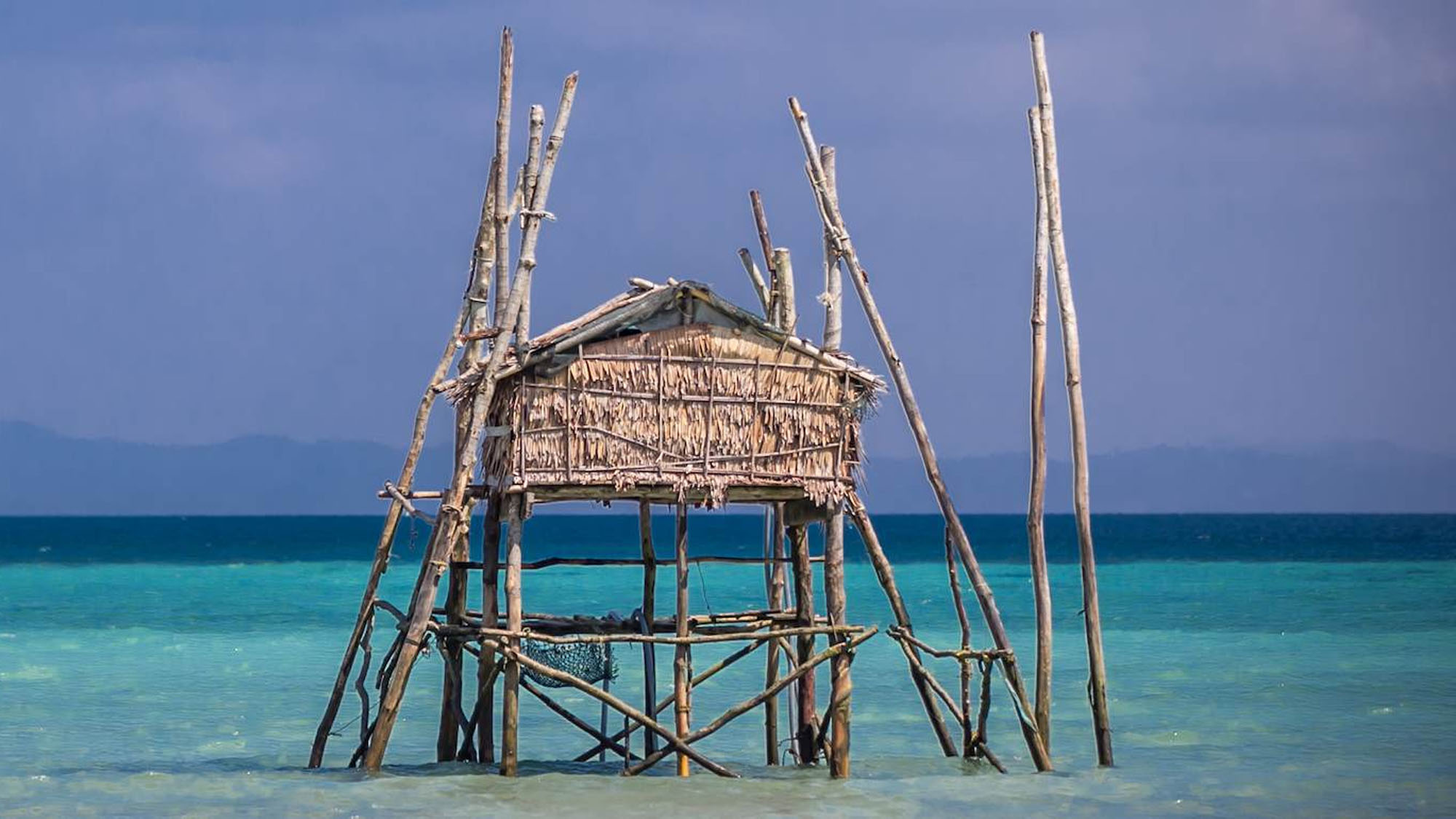 Sailing Conditions
Under full sails, heeling over, the wind and sun in your face, salt on your lips, and no land in sight.
Or, a leisurely cruise to the next beach, feet up on the helm, drink in hand and watching the dolphins jump.
Whether you're an experienced sailor or onboard a ship for the first time, you will love Myanmar's Mergui Archipelago, an area so versatile and large that you can beach hop for weeks on end or go on multi-day blue-water passages. Or both, of course.
The Mergui Archipelago lies in tropical waters and temperatures are constantly warm and pleasant, with average highs ranging between 28-33°C (84-92°F) and average lows between 20-24°C (69-76°F).
Sailing is possible throughout the year, but there are major differences between the seasons.
The best time for sailing in the Mergui is between November and April. Conditions during December to February are perfect, with warm, sunny weather, a steady 20 knots of wind, and calm seas. March and April have less wind, which is why they are the best time for diving and snorkelling with clear water.
From May to July there are strong onshore winds and a larger swell. There are occasional hurricanes in the Mergui from May to June. The rainy season is from July to October.
Even when winds are strong and swells are sizeable, the numerous large islands provide hundreds of protected anchorages for any season.
While some areas of the archipelago have not been entirely charted and explored, the region provides safe sailing, with few under-water obstacles or dangerous reefs.
The entire island group is replete with good and safe anchorages in sandy or muddy grounds.
And in case we encounter days without wind, there is enough to explore in the water and on land to keep us busy. Plus, the yacht's engine runs up to 8-12 knots.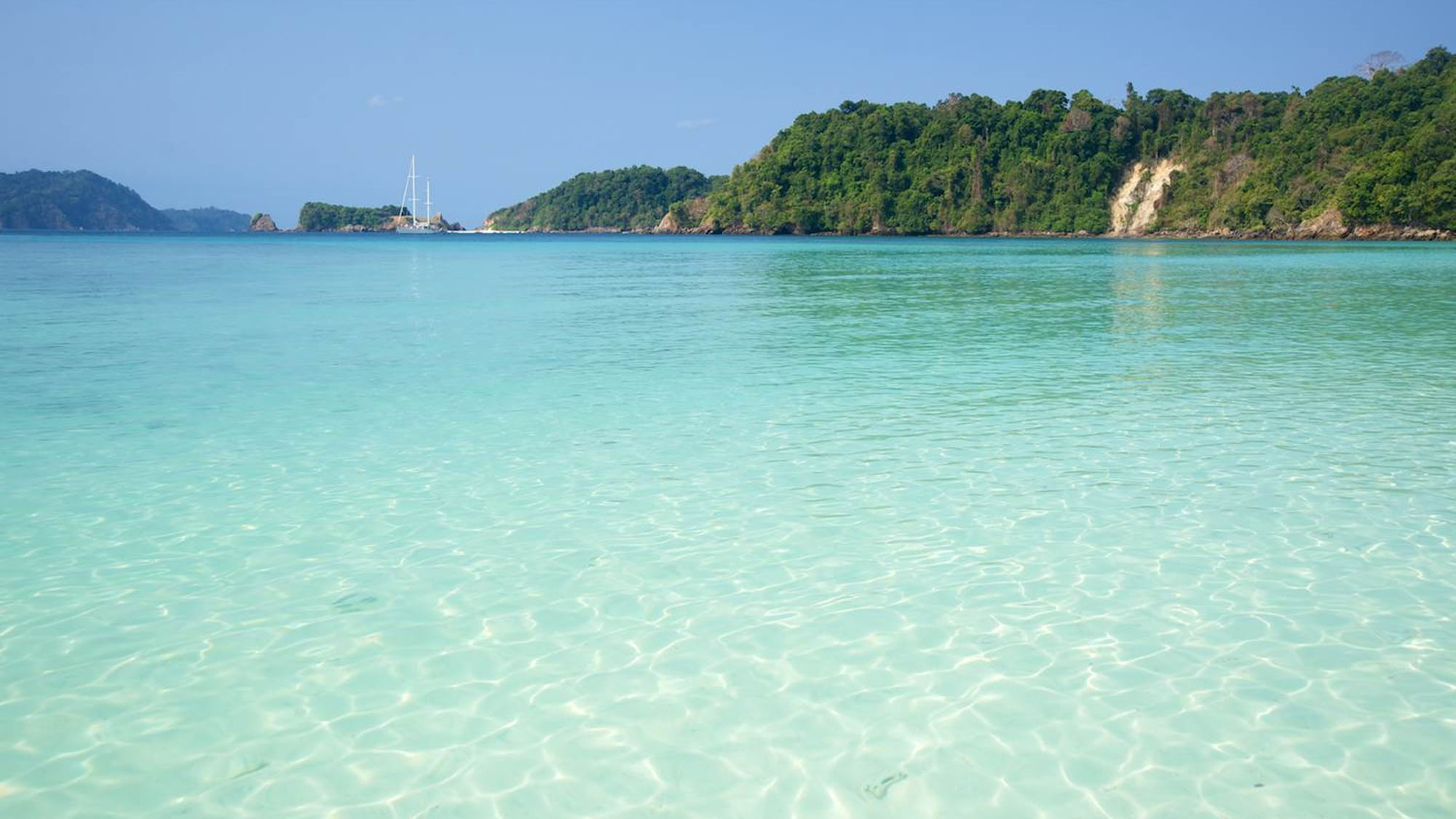 Nature and Activities
Explore tropical forests, hiking through valleys and up hills, walk along kilometres of beach with only footprints behind you, kayak through enchanted mangroves, swim, snorkel, scuba dive, and go fishing: you've got it all. The Mergui Archipelago is teeming with wildlife.
Due to government neglect and the region's long isolation, its 800 plus islands have remained virtually untouched. They are composed of limestone and granite and vary in size from tiny to islands larger than Singapore. Most of them (we have yet to find one that isn't) are covered in thick jungle growth, which drops into azure waters, interrupted only by beaches, rocky headlands, tidal rivers, and mangrove forests. Lampi, one the largest islands, is part national park and home to some of the planet's oldest mangrove forests.
Animals on the islands include gibbons, pythons, civet cats, huge monitor lizards and the rabbit-sized mouse deer. Hornbills are a common sight, while kites and white-bellied sea eagles circle above every island and kingfishers dart around eerily quiet mangrove forests. Frigate birds, pacific reef egrets, green imperial pigeons, and emerald doves are just some of the birds native to this diverse archipelago.
Further out west, where the continental shelf drops off into the deep sea, a range of underwater mountains called the Burma Banks are a thrilling diving area for the experienced. We provide you with snorkelling equipment at no extra cost.
Boost our food supplies with the best produce possible: fresh fish directly from the sea! Cast for tuna, barracuda, mahi mahi, giant trevally, Spanish mackerel or snapper while sailing or when close to shore. Or go for the truly big guys and try your luck catching marlin and sailfish. Either bring your own rods or just use ours. Most of the local fishing boats in the area catch squid and cuttlefish and, if you want, we can always buy directly from them.
The UNESCO examined the Mergui Archipelago as a potential World Heritage Site for its biodiversity, and the organisation's report concludes: "While the biodiversity is largely unknown, the intact vegetation on such an array of islands, with associated marine habitats and spectacular geomorphology, is likely to be of high global biodiversity significance. The biodiversity values of this set of forested continental islands, and the limited protection afforded such coastal islands elsewhere in the region, indicates that they are likely to be of global priority and form a potentially important trans-boundary World Heritage inscription."
Video
Watch our video to find out what sailing in Myanmar looks and feels like.
Sample Cruising Itinerary
From mid-October to May we operate regular 6-day cruises in the Mergui Archipelago, leaving from Kawthaung. Come on board to discover Myanmar's forgotten paradise. We promise you a beautiful holiday and our crew will do everything to spoil you.
Overview
Day 1
Day 2
Day 3
Day 4
Day 5 & 6
From mid-October to May we operate regular 6-day cruises in the Mergui Archipelago, leaving from Kawthaung. Come on board to discover Myanmar's forgotten paradise. We promise you a beautiful holiday and our crew will do everything to spoil you.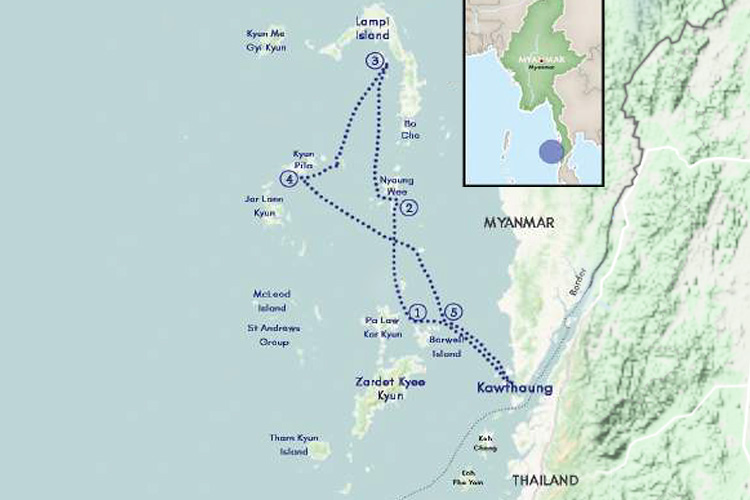 We will pick you up at your hotel or at the airport and you'll be onboard the yacht in no time at all. After the welcome aboard your yacht will set sail towards Barwell Island and we will spend some time swimming before sunset, cocktail, and dinner on board.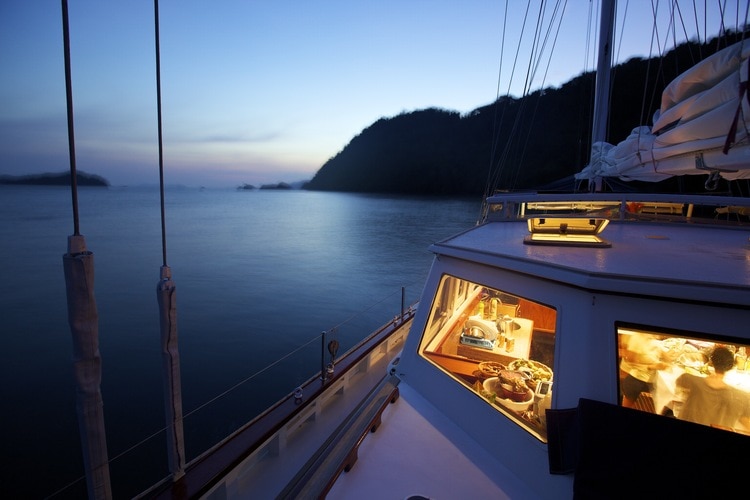 After breakfast, sail to Tang La Bo Island for some amazing snorkeling spots and strolling on this pristine beach. Lunch on board and set sail towards Pony Island. Birdwatching (toucan, hornbill & sea eagles) and ample swimming time before sunset. Anchor & overnight near Nyaung Wee Island.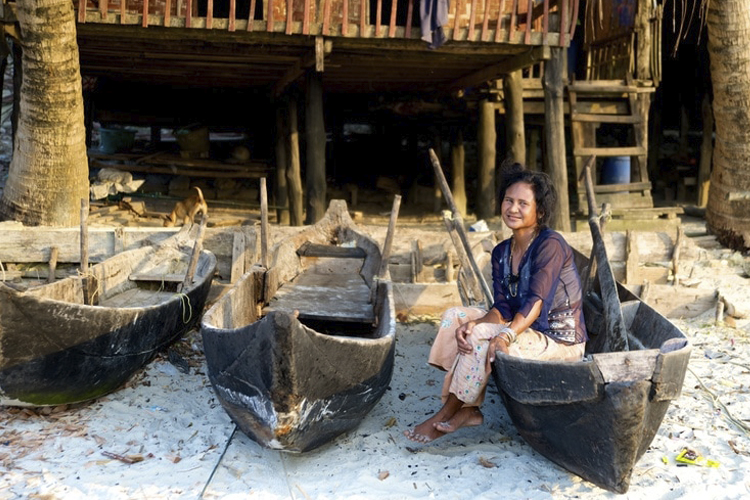 We set sail towards Lampi National Park, and according to the tide we either visit the mangrove or set for an excursion to the Moken village. Overnight anchor near the quiet bay of Pulo Bunai Island where you can sometimes watch bioluminescent plankton at night.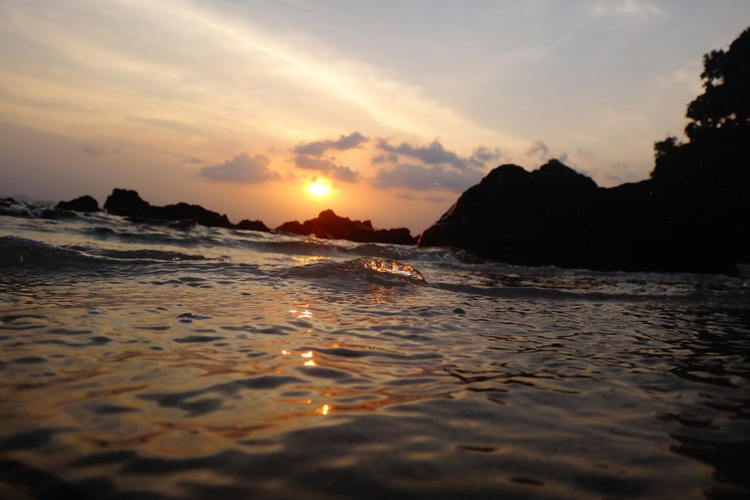 After breakfast, sail toward Nga Namm Island for snorkeling, kayaking & best fishing spots in the islands. Lunch on board and sail to Kyun Pila. If time permits, a quick swim before our bonfire and sunset cocktails on the beach. (Option: Scuba-diving available at Pila island on request)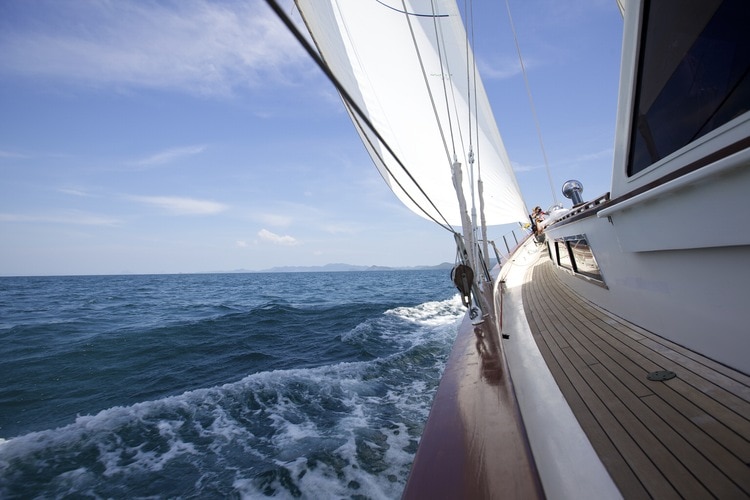 Breakfast on board, sail to 115 islands, trekking in the jungle & lunch. Sail and quick stop to Taung La Bo or Kyun Pya Gui according to the wind and tide. Special Captain's Farewell diner around Hasting Bay. After a long brunch the next day, we sail back into Kawthaung. See you next time!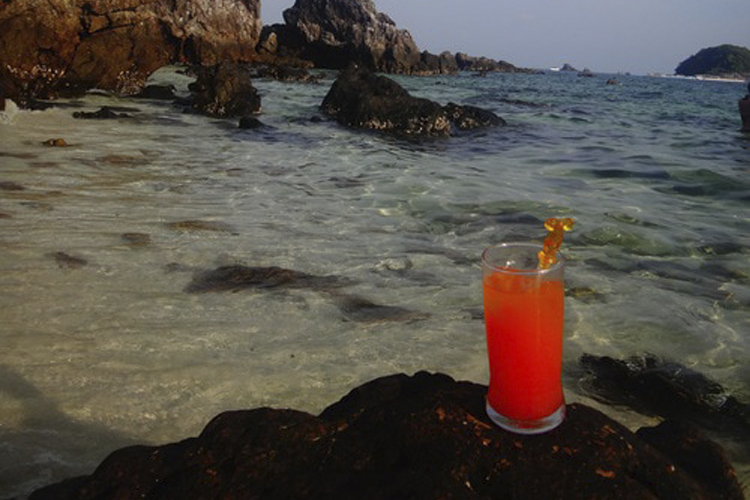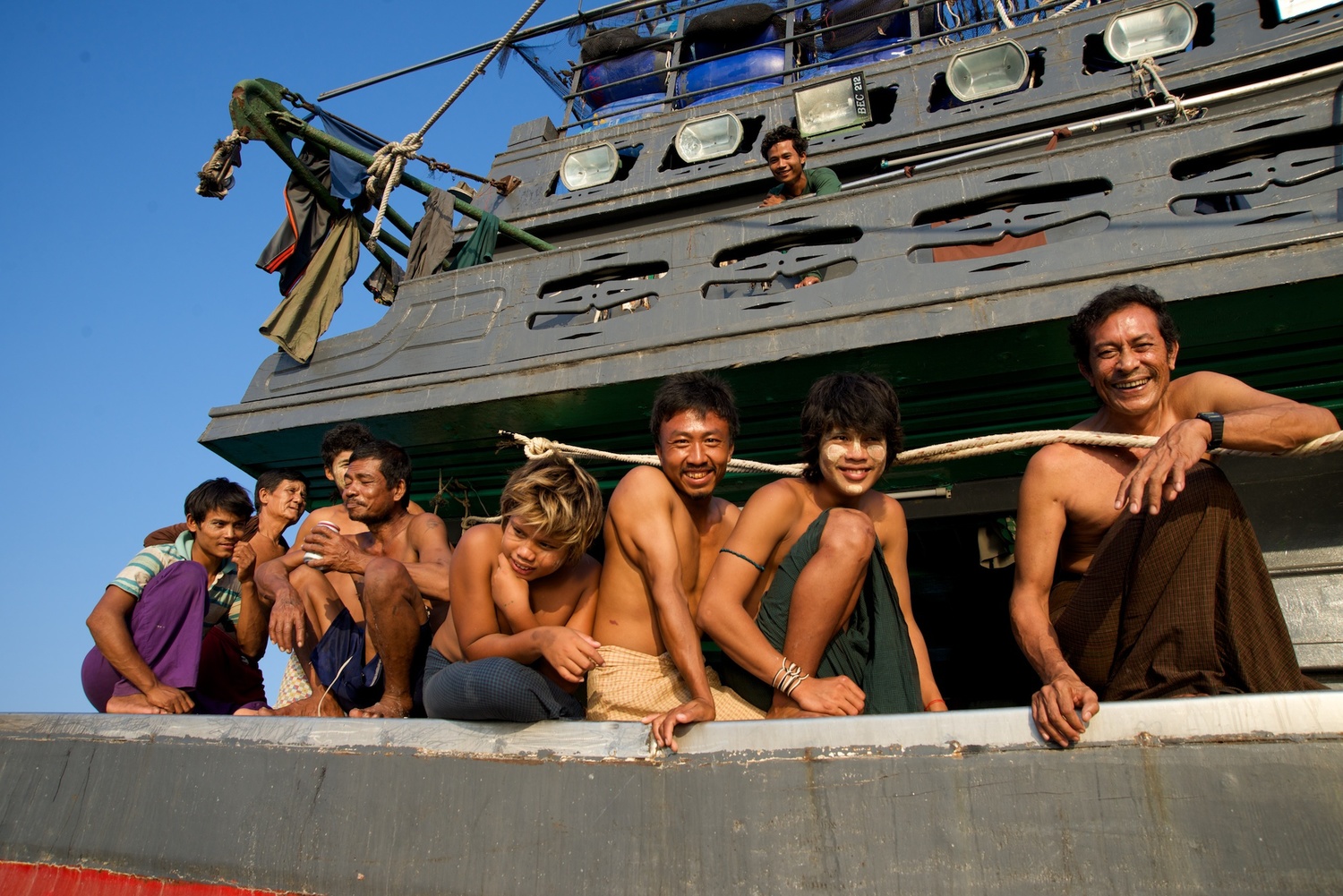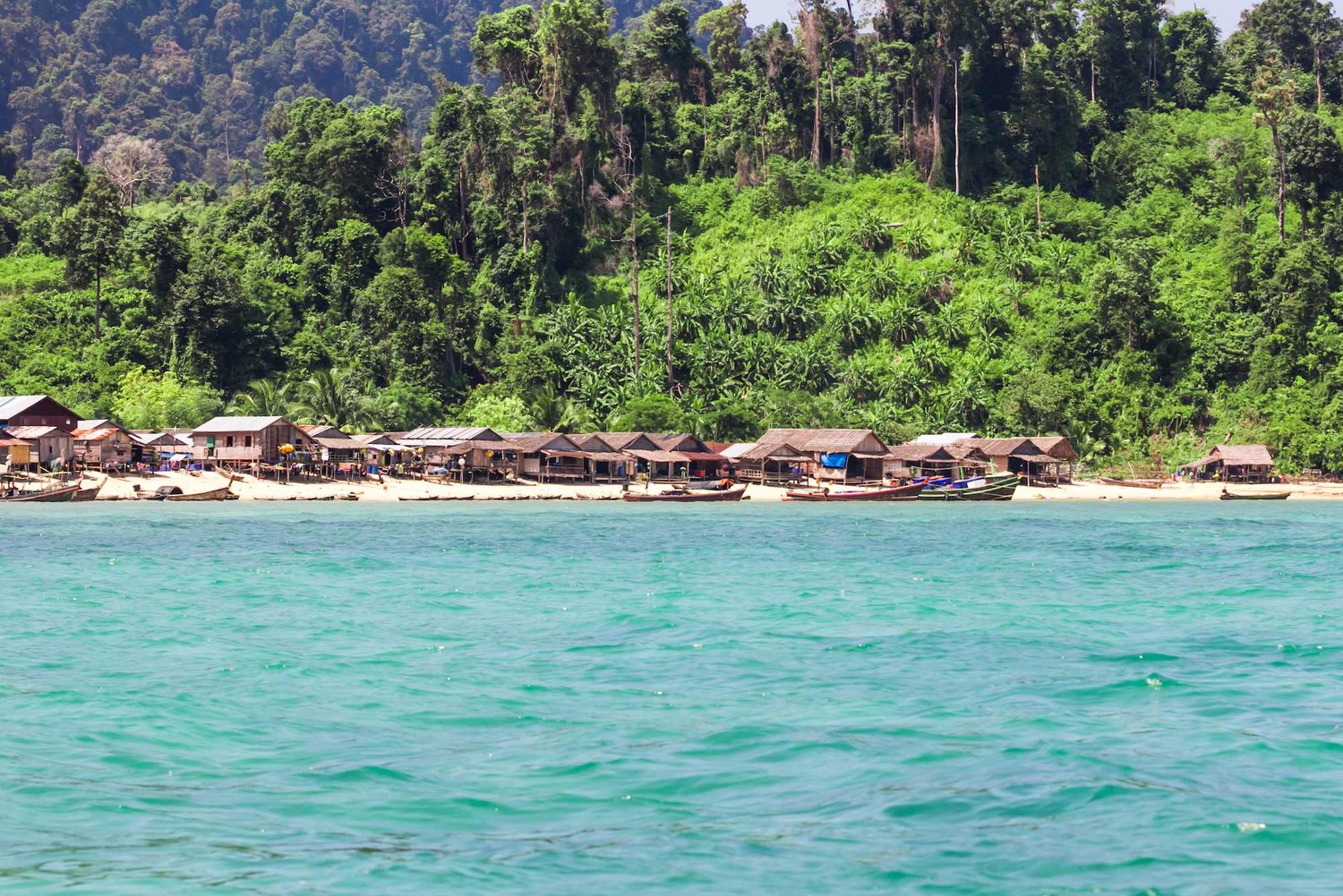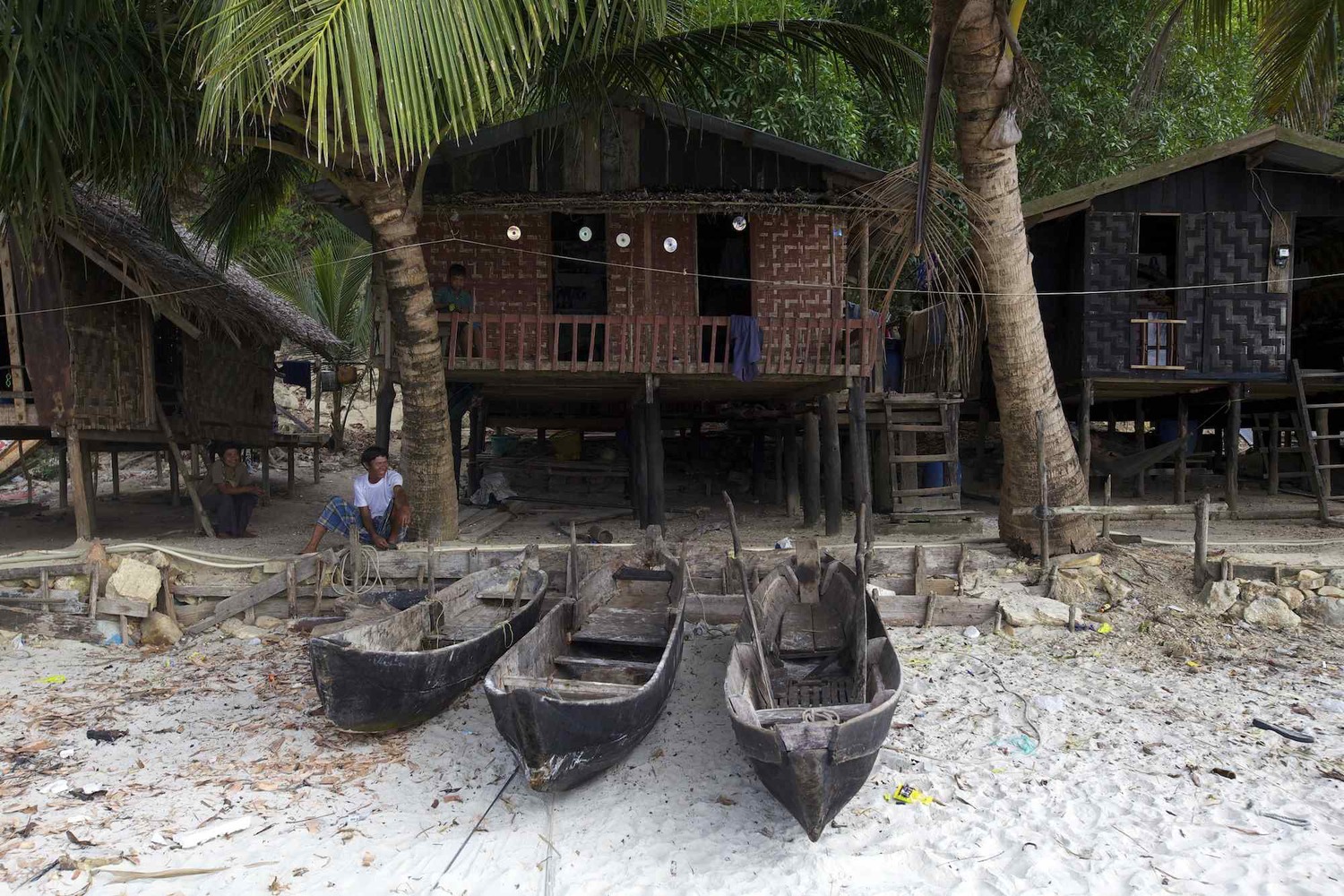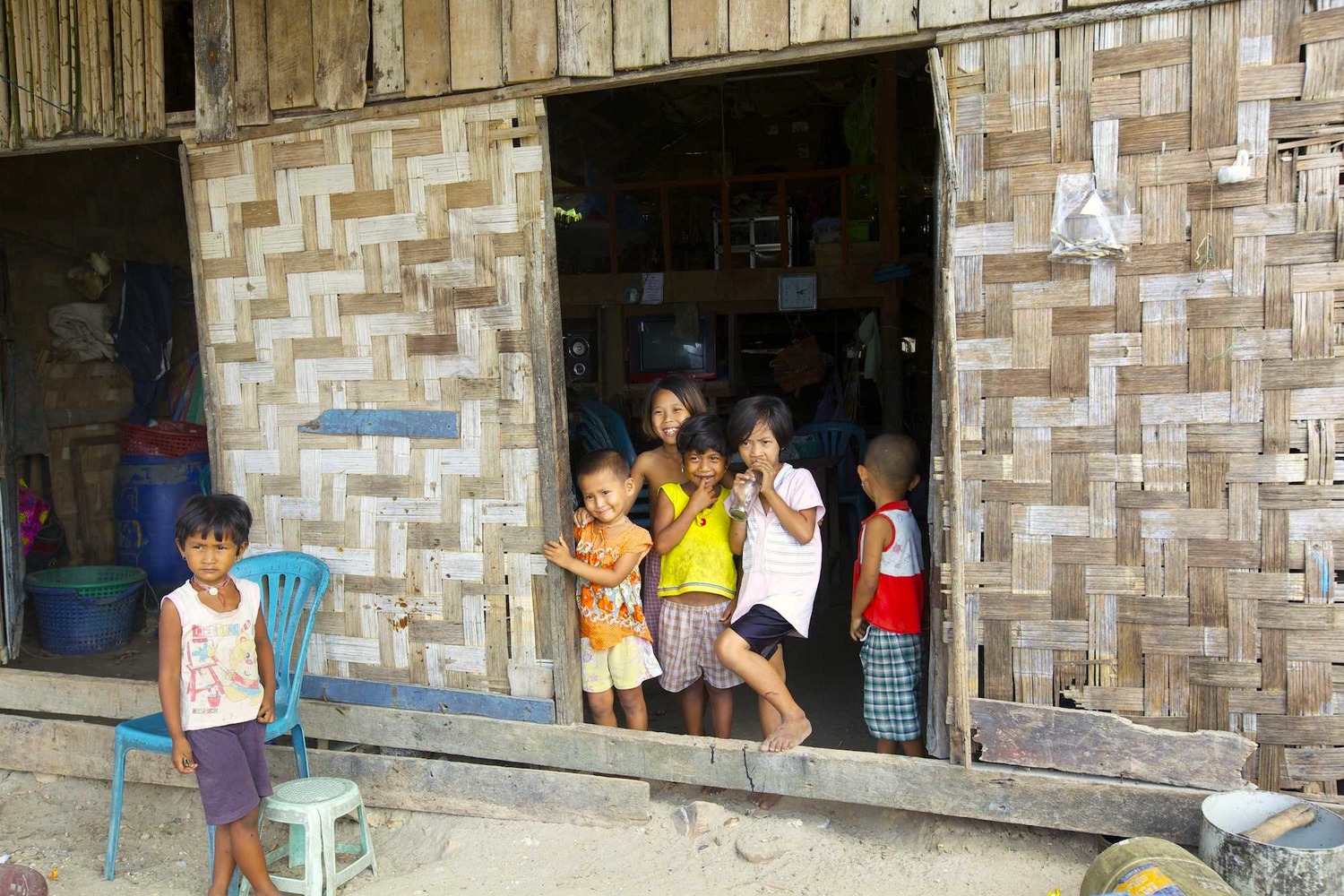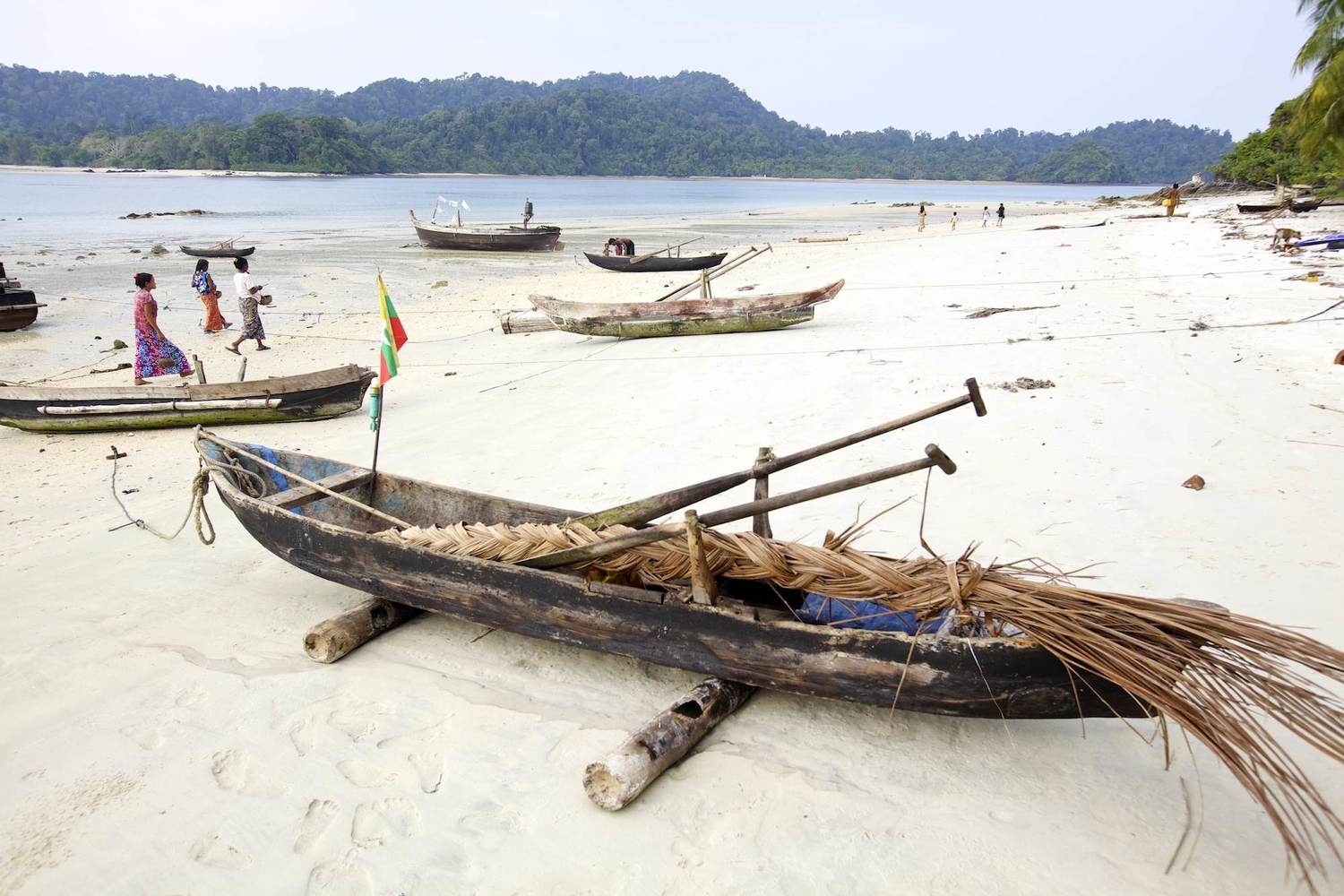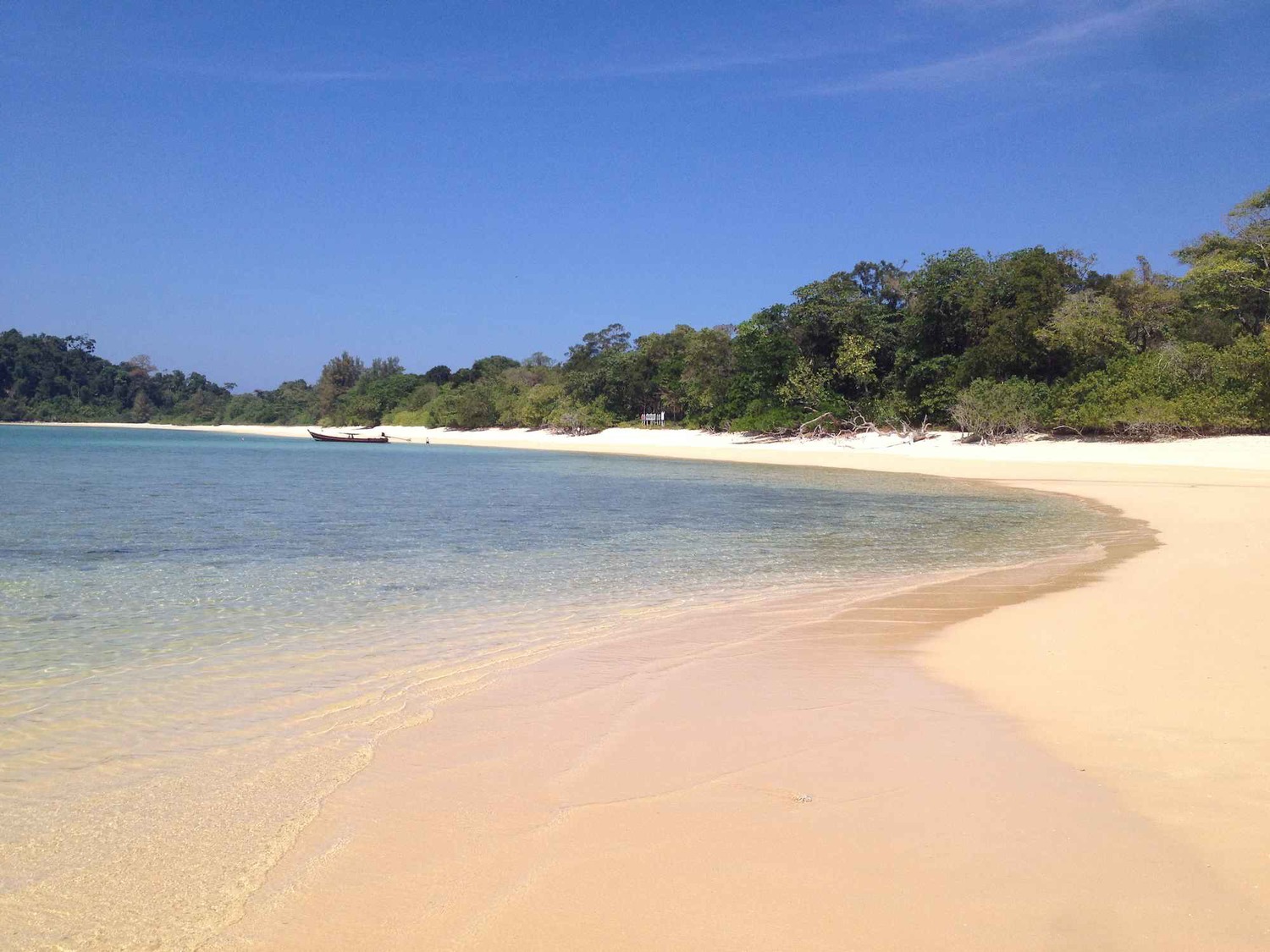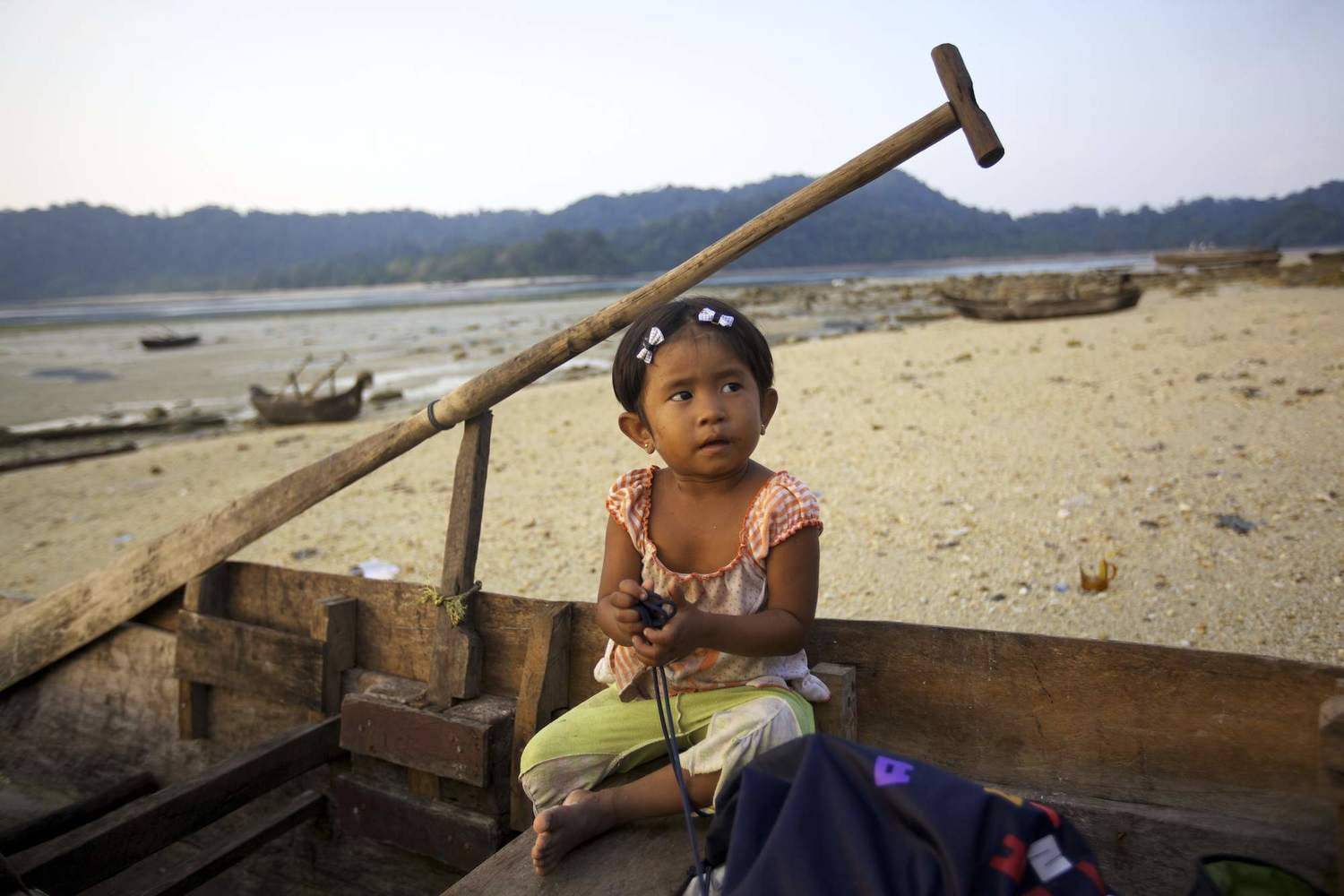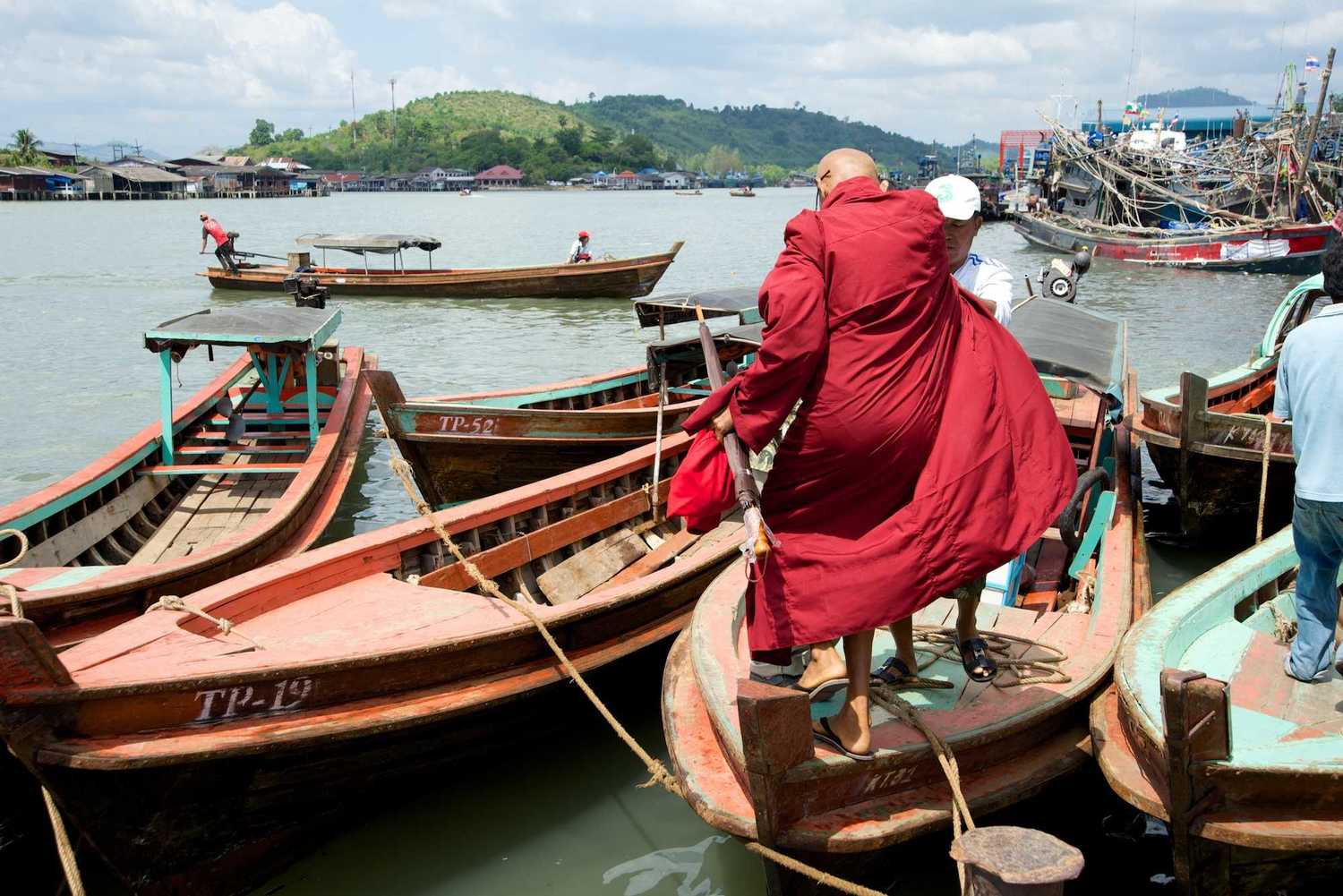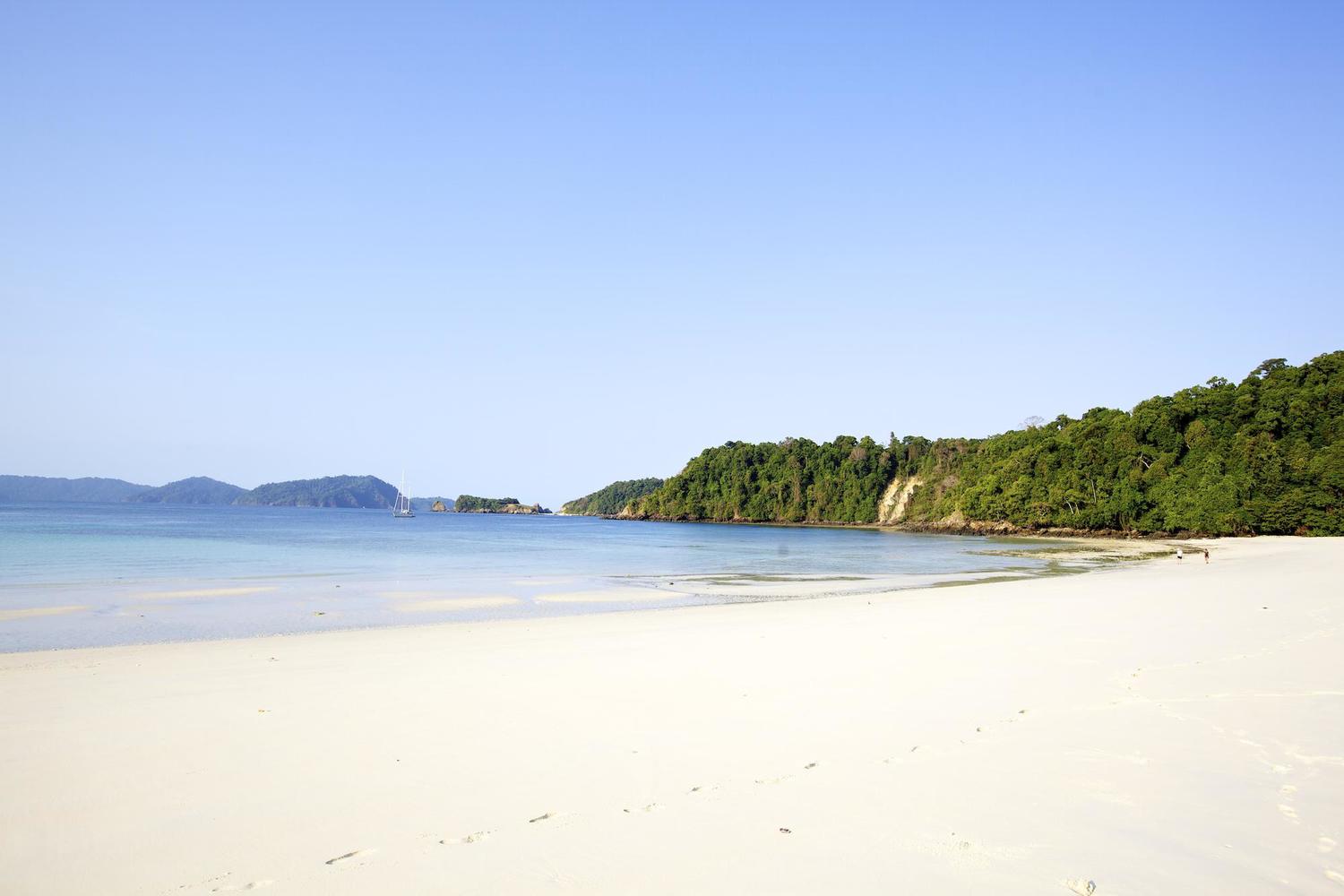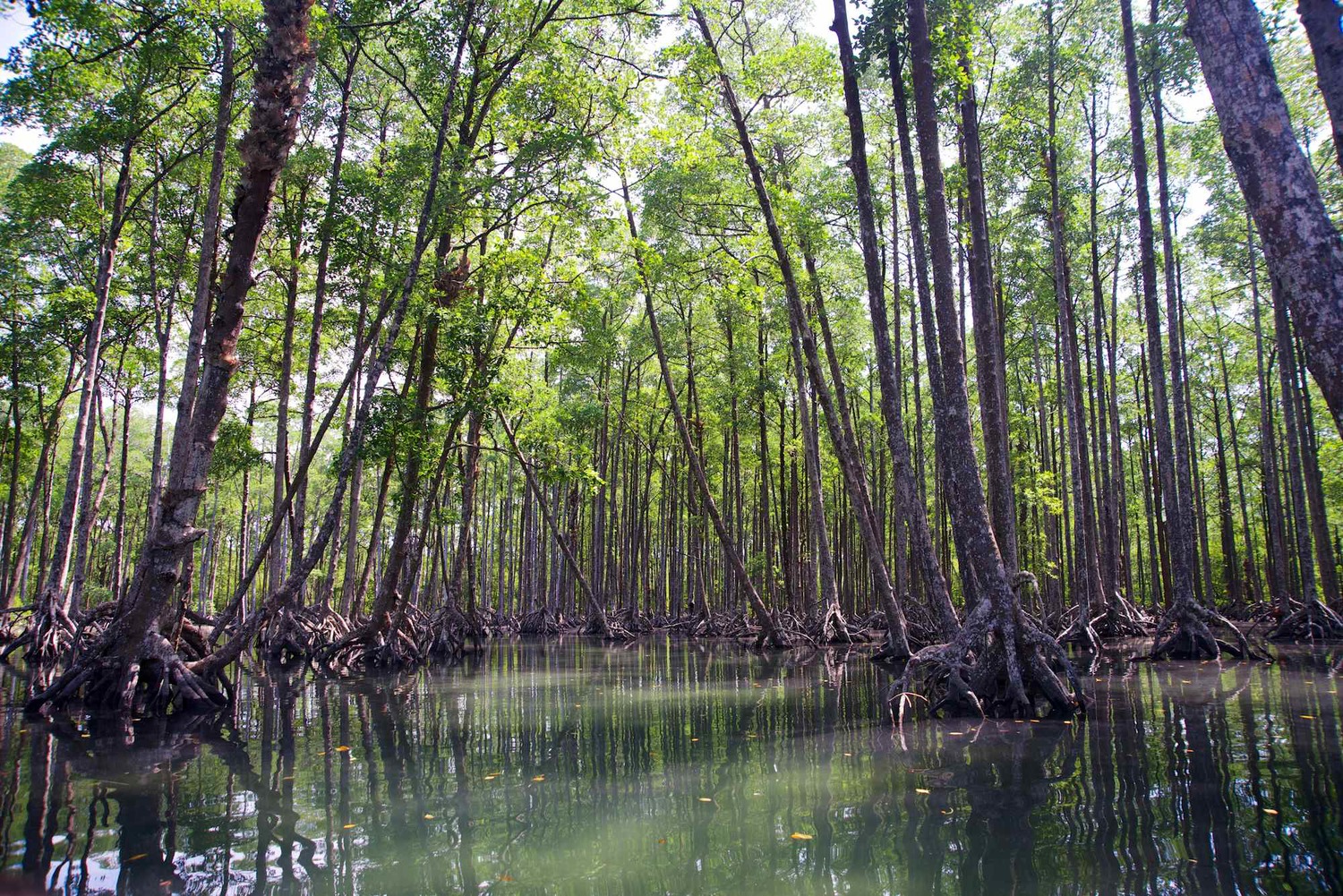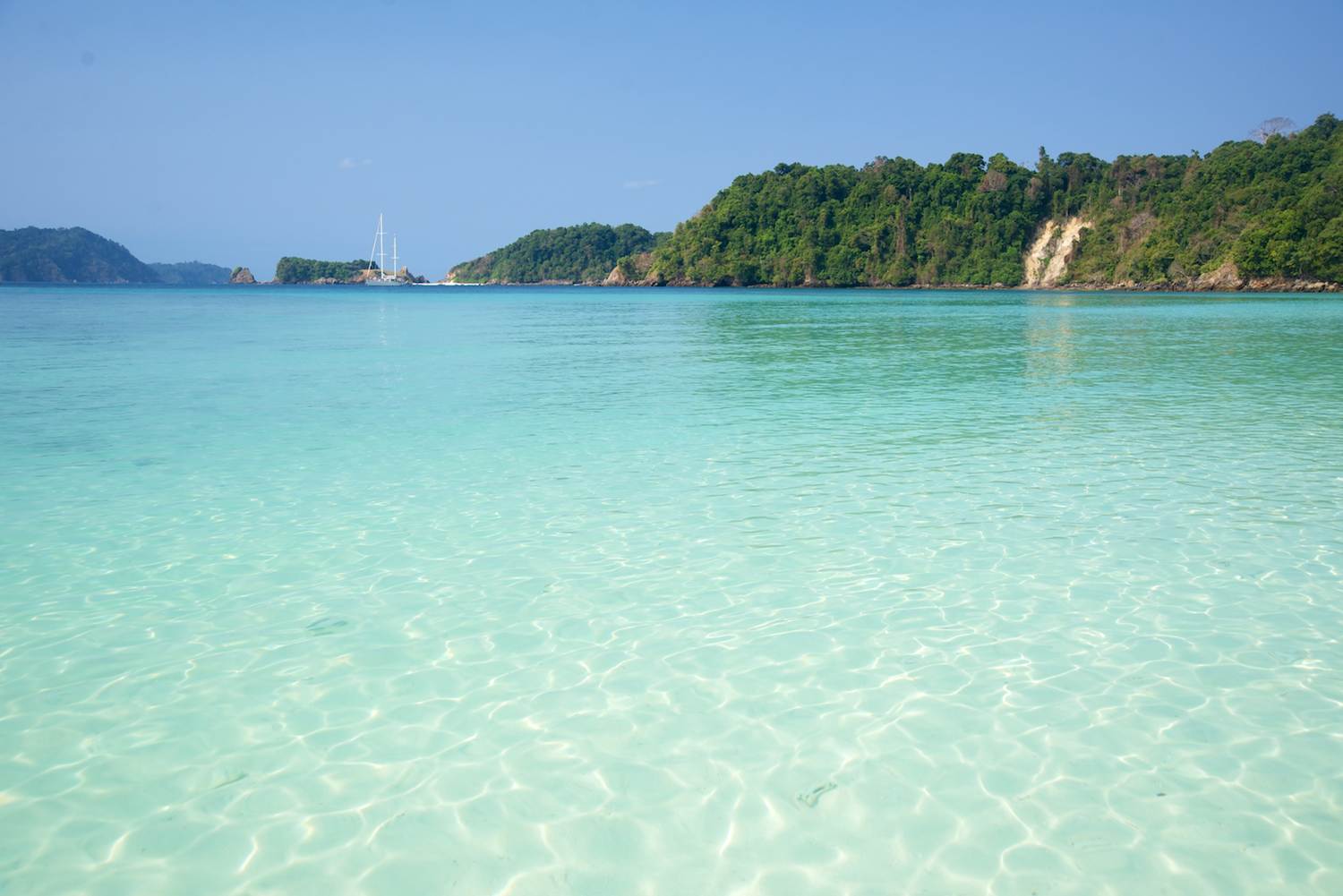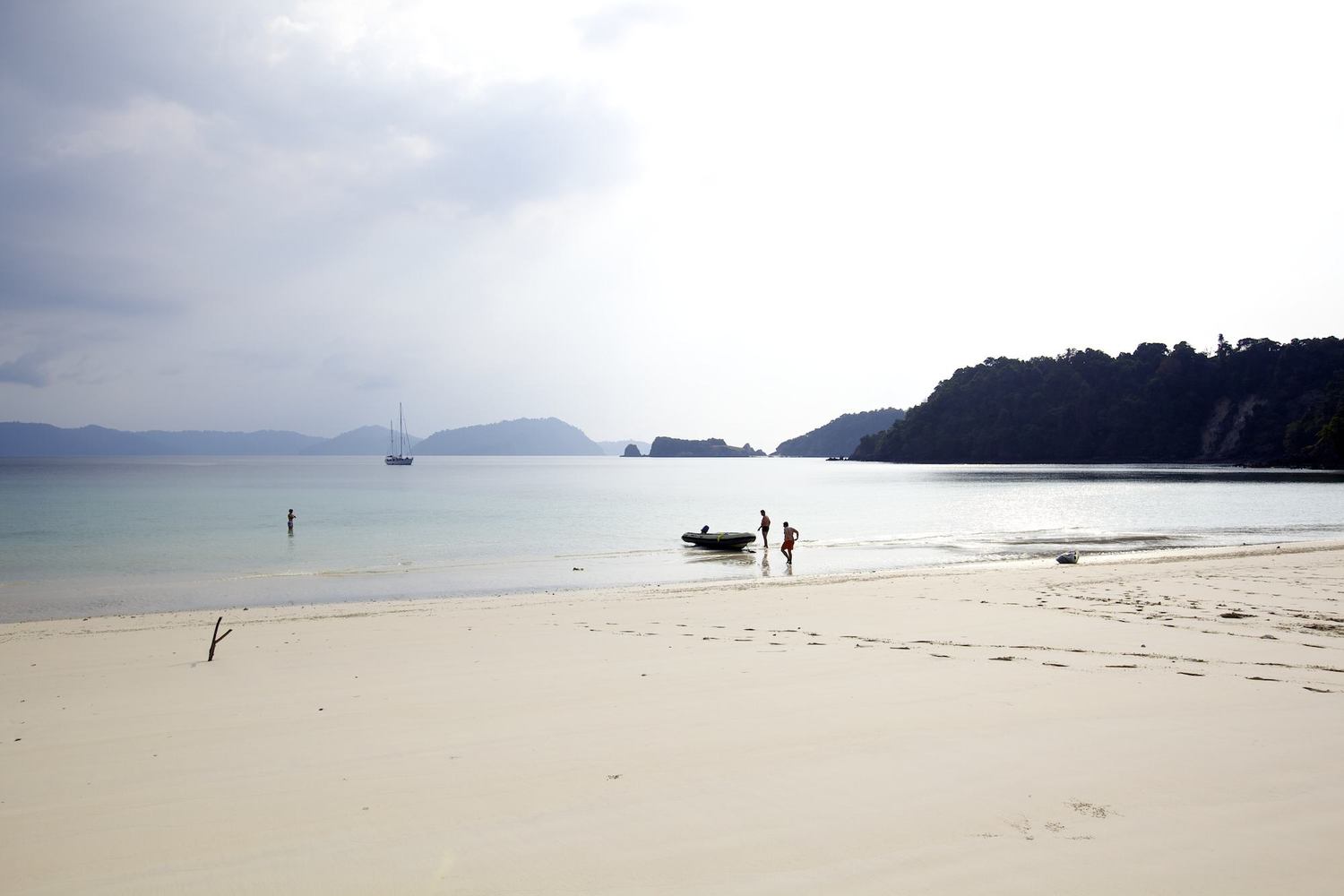 Getting to the Mergui Archipelago
All of our regular trips in the Mergui Archipelago depart from Kawthaung in Myanmar's south, just across the border from Thailand. Getting there is easy, and there are several travel options.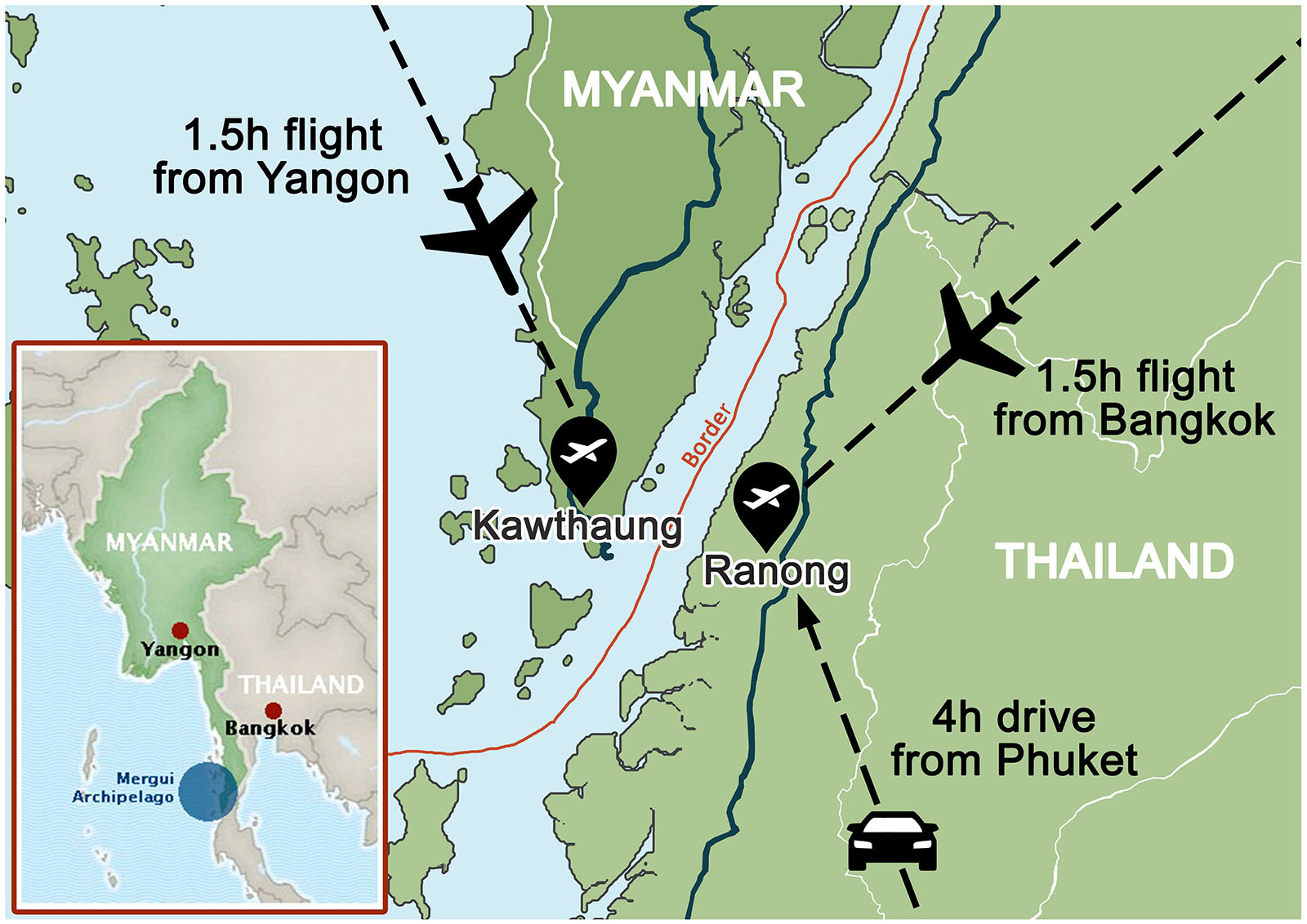 Flying to Kawthaung
If you are arriving from within Myanmar, you can book online and fly directly to Kawthaung Airport from Yangon by Myanmar Airlines & KBZ Airlines. We'd be more than happy to help you organise transportation and meet you at the airport.
Flying to Ranong
Another option is to fly to Ranong Airport. There are daily flights from Bangkok by Nok Air and Air Asia. The airport is well-served by local taxi drivers, or we can pick you up from Ranong Airport upon request.
Once you are in Ranong, take a 30-minute longtail boat ride across the Pakchan River to Kawthaung on the Myanmar side. We will help you with the immigration procedures before boarding the yacht.
Arriving via Phuket
Phuket International Airport is a convenient and well-connected place to fly to. From there, take a scenic 3 – 4 hour car ride to Ranong, the Thai border town. We'd be more than happy to arrange transport for you.
Other Destinations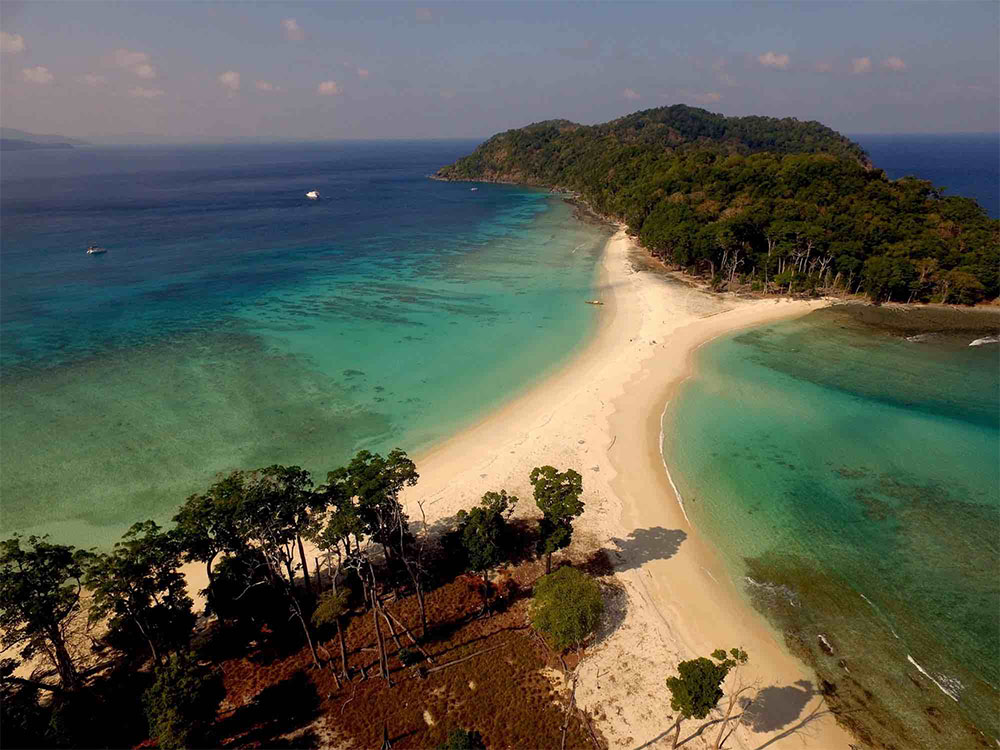 Andaman Islands, India
Sail between Thailand and India's incredible Andaman Islands and explore this unique archipelago. Ecologically, culturally, and for its pure beauty and remoteness, the Andamans are among the world's most extraordinary regions.
More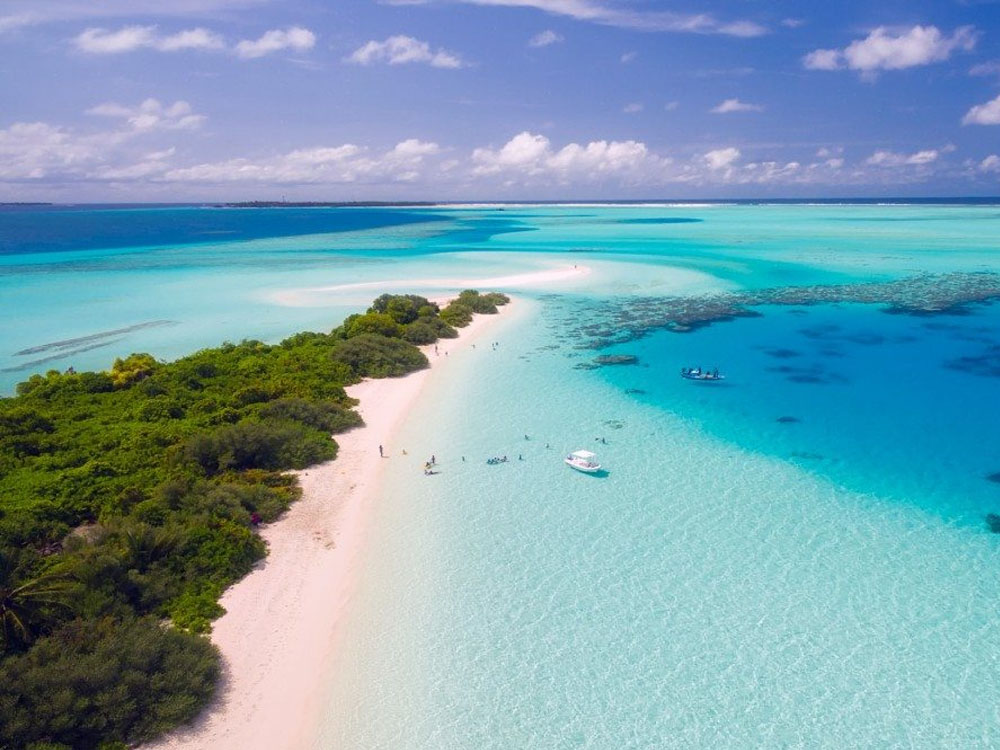 Anambas Islands, Indonesia
The Anambas Islands are a group of 255 pristine islands located in the Riau Archipelago, the South China Sea between Singapore and Borneo.
More