Lampi Island Marine National Park
Lampi Island Marine National Park
September 16, 2015 in Environment, Wildlife, Mergui
There is one marine national park in Myanmar and it's right in the centre of our sailing area.
With over 200 sq km in size, Lampi is the largest island in the southern part of the Mergui Archipelago. It rises almost 500 meters above sea level and is home to more than a thousand species of animals, plants and marine life, many of which are rare and protected.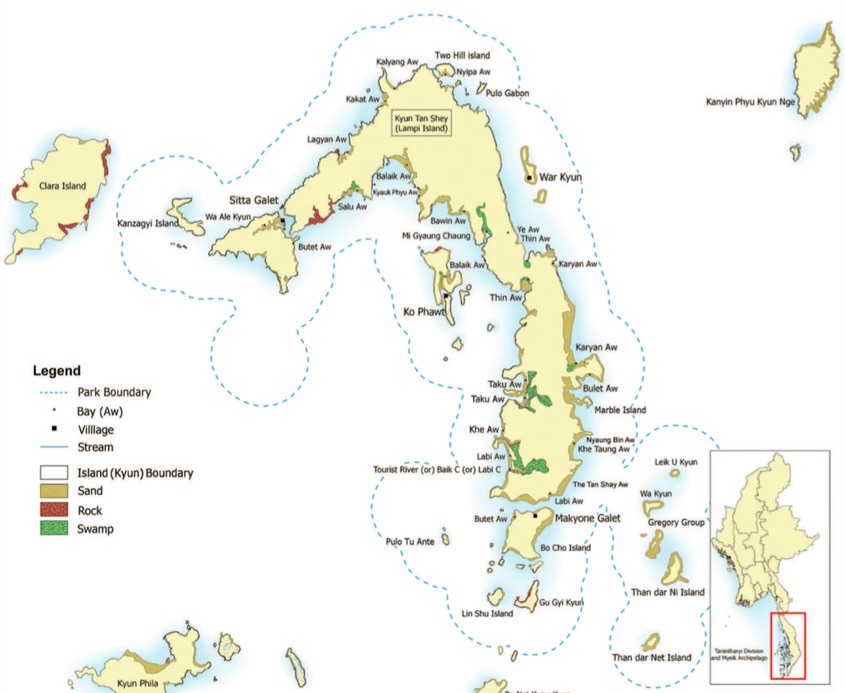 Because of its important biodiversity, the national park was declared an ASEAN Heritage Park. Lampi Island is covered by tropical lowland wet evergreen forest in the interior, mangrove forest along rivers and fresh-water sources, and beach and dune forest along the coast. Other major habitat types are coral reefs, seagrass, freshwater streams and swamps. The main island of Lampi has two major perennial rivers and many small seasonal streams. Fresh-water resources are abundant. The variety of habitats supports a high diversity of both terrestrial and marine resources.
The nature conservation society Oikos has published a study on Myanmar's national parks, which contains an in-depth survey of Lampi Island Marine National Park and its ecology with detailed lists of its wildlife and overviews of threatened animals in the park. This survey is the most valuable resource available on the Mergui Archipelago's ecology.
Oikos is the the major conservation organisation involved with the Mergui Archipelago and, together with Myanmar's Ministry of Environmental Conservation and Forestry, has long been working on a plan to implement regulations to protect the region and to manage the national park.
At Burma Boating, we are proud to be partners of Oikos in their effort to find the best solutions to protect the Mergui Archipelago and its unique national park.
Have a look at the new website of Lampi Island Marine National Park! And if you are interested in visiting the national park and the Mergui Archipelago, just let us know.